As you all might have read, I am very interested in gathering information on the MMO industry in Asia. In this post, we will be taking a look at how the various mega MMO publishers in China size up in the China market. From my point of view, I am really surprised at how Netease manage to snag the position as second in-command of the pack from Shanda Games. Well then, let's have a brief look at some statistics.
First, we will have a look at the 3 biggest MMO companies in China: Tencent (pink), Netease (blue) and Sanda Games (yellow). On the vertical axis, it depicts the amount (in USD million) of earnings while the horizontal axis depicts the year and quarter (e.g. 10Q1 = Year 2010 1st Quarter).
Readers might be wondering how Tencent can be the top dog in the lucrative China online market, while some might not have even heard of the company before. To summarize, Tencent is a mega Internet company, their main product being QQ Messenger, the China equivalent of Windows MSN Messenger. There are actually hundreds and thousands of QQ Messenger-based games, where various charges are made like a Free to Play MMO. The company also started to move more into quality client-based MMORPGs in recent years, including the setup of an office in Boston, North America. Tencent is expected to launch their attack on the English market soon.
Netease is definitely a surprise, seeing that they had to endure almost 2 years of waiting for them to launch World of Warcraft China since taking over the rights from The9. World of Warcraft China was once again officially launched just last week and people all over China were celebrating the "event". According to reports, there are already a few guilds who comprises only of adults who have quit their jobs just to play the game. Cyber cafes are fully booked for the rest of the month, "widowed" wives and girlfriends are meeting up to hangout and more. Netease's shares will no doubt go higher again over the next few months. I can't imagine what will happen when the Cataclysm expansion hits China. There are no news, and I don't see it happening, of Netease breaking into the English market.
In the 2nd runner up position, we have Shanda Games. The publisher of Aion: The Tower of Eternity (it is rare for a MMO to go P2P in China) reap much rewards from the game. More recently, the company bought over Korean developer, Eyedentity Games, in a deal which shocked the whole Asian MMO industry as no rumors were leaked before the sudden announcement. Shanda Games is also the publisher of Eyedentity Games' maiden MMORPG, Dragon Nest, in China. Dragon Nest took the country by storm (I am playing it) with player ratings and CCU (concurrent users) through the roof, with the highest recorded at 700,000 players online at the same time. Expect Shanda Games' shares to rise too, as I doubt the charts reflected the takeover which was announced just yesterday. The company also acquired Mochi Media in recent months and is said to be preparing for a shot at the English market in the near future.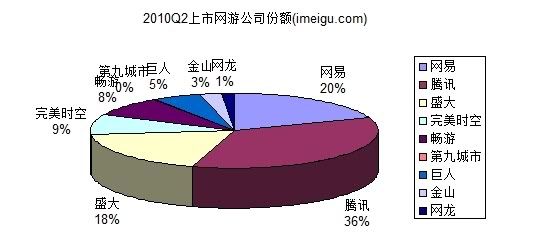 Now, we will have a look at the top 9 MMO companies in China and their market share up till the 2nd quarter of 2010.. Here is the list:
1. Tencent – 36%
2. Netease – 20%
3. Shanda Games – 18%
4. Perfect World – 9%
5. ChangYou – 8%
6. Giant Games – 5%
7. Kingsoft – 3%
8. Netdragon – 1%
9. The9 – 0% (less than 1%)
Several of the companies have already established offices in North America, including Tencent, Perfect World (http://perfectworld.com/), ChangYou (http://us.changyou.com/ and http://eu.changyou.com/) and Netdragon (http://us.tqdigital.com/game/games.shtml). The9 does not have a North America of Europe office of its own, but it has invested significantly in Red 5 Studios, which recently announced their maiden MMO, Firefall.