[Epic Games store page] As part of developer Phoenix Labs and Epic Games' partnership to publish Dauntless, the critically acclaimed Behemoth hunting co-op action RPG, on the Epic Games store later this year, Phoenix Labs announced that players will soon be able to manage their Dauntless account through the Epic Games store patcher. In preparation for the Dauntless console launch later this year, Slayers can soon migrate their Dauntless account information to Epic Games accounts and secure their account names here.
This migration is the first big step towards Phoenix Labs' vision for One Dauntless, a true cross-play experience that will unite players across PC, Xbox One and PlayStation 4 in April and on mobile and Nintendo Switch later this year. As part of this vision, all progress will carry over into 1 account so Slayers can seamlessly continue their adventure no matter their platform. Players should continue to log in and play through the existing Dauntless patcher for the time being, but in the coming months the existing Dauntless patcher will be retired as Dauntless on PC becomes available exclusively through the Epic Games store.
When Dauntless launches on the Epic Games store later this year, players will be able to use their Epic friends list to see their status, chat, and more – all from within Dauntless. Dauntless will also incorporate Epic Games' Support-A-Creator program, a way to give back even more to their passionate partners and content creators. In addition to this exciting partnership, Phoenix Labs launched Dauntless Hunt Pass Season Two, which begins today alongside the Valentine's Day-themed, Saint's Bond celebration. The new season introduces a brand new set of limited-time rewards, from platinum bundles to romantic emotes.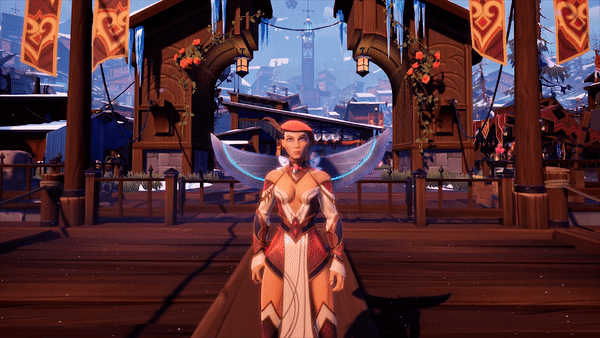 Like the previous Hunt Pass season, Season Two offers two reward tracks, each consisting of 50 levels: a free Basic track and a 1,000 platinum Elite track, which rewards Slayers willing to take up the challenge with Ace chips, notes, exclusive transmogs and more. After listening to player feedback from Season One, Phoenix Labs has increased the amount of experience yielded by breaking Behemoth parts, making it easier to advance through levels and earn rewards. Season Two has also been extended to nearly 45 days total, giving Slayers until March 13th to make it to level 50. You can start playing Dauntless free now!