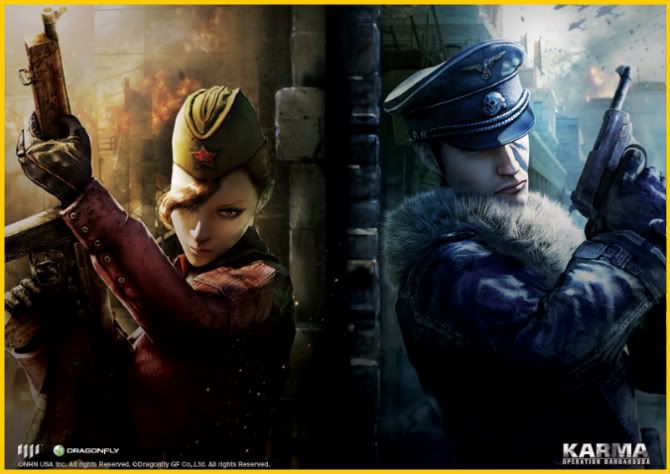 KARMA: Operation Barbarossa is an upcoming MOFPS developed by Korean studios, Dragonfly, Futureport, Blueside and will be published by ijji for North America and Western Europe. With already a few online shooters in its library of games, including Soldier Front, A.V.A and Genesis A.D, why did ijji decided to host KARMA? What differences will KARMA feature which will blow its competition away? Let's find out.

OnRPG: Hello, I am Fo Po (cinderboy), OnRPG's journalist. Can you please introduce yourself?
Hello, OnRPG patrons. My name is Boo Kim, and I am the Project Manager for the exciting new FPS, KARMA: Operation Barbarossa.
OnRPG: With quite a few MOFPS in ijji's library, why the decision to include KARMA?
Good question. The answer is quite simple really. We are the destination for quality competitive FPS games. We are building a portfolio of games to suit the needs and wants of all gamers. For FPS games, we currently have A.V.A and Soldier Front. With the introduction of KARMA and Genesis A.D in the near future, we'll soon have a very good selection of FPS's for all types of gamers to choose from. I think those games are different enough and present unique features while maintaining the high standard we have for 'competitive fun' that our users will never have to look outside of ijji to find the FPS they like.
OnRPG: Do you see it as a risk to release another MOFPS so close after Genesis A.D?
As I explained earlier, they are all different games. They are categorized as FPS games but they all offer distinct playing experience for the user. If you want tactical shooting in a modern military setting, you can play Soldier Front or A.V.A. If Sci-Fi twitch action is your thing, we have Genesis A.D coming at you. KARMA gives you very unique features including the Skill Tree System in World War 2 setting, which is difficult to find in the Free 2 Play market. I'm a huge gamer myself, so I play all the current popular titles like Modern Warfare or Battlefield Bad Company. I don't limit myself to just one or two games – if it's a good game, gamers will find time for it. So, I'm actually very excited about our upcoming lineup headlined by KARMA and Genesis A.D. Come to ijji and check out all the fragging action
OnRPG: A.V.A was developed using the Unreal 3 Engine while KARMA was developed using the little-known FAME Tech 1 Engine. Will this cause a newer game to have inferior graphics?
KARMA's graphics are no slouch. I think you'll be pleasantly surprised at how crisp the graphics are when you see it. When it comes to the discussion of graphics quality, often overlooked is the fact that nice graphics come at a price of higher system requirements. I think we were able to achieve the fine balance between maximizing the quality of graphics while maintaining accessibility for the majority of our users.

OnRPG: What are some of the main differences which will set KARMA apart from other MOFPS in the market?
Just to name a few,
– WWII Setting
– Skill Tree System (Aerial Reconnaissance, Canine, and tons more)
– Weapon configuration based on Payload system (i.e., you can carry three Primary Weapons)
– Use of Iron Sights (i.e. aimed shot from MP-40)
Better yet, this is a F2P FPS and K.O.B. is still quite a young title, which means we'll work with game developers to introduce more contents that users want for FREE.
OnRPG: In Korea, the game was simply called KARMA 2 (its a sequel). Why the change of title?

The original title, KARMA Online, was never introduced to gamers in our markets. It would have made it confusing to our users to call this KARMA 2, when there has not been KARMA 1 in this market.
OnRPG: The storyline takes place in a fiction WWII after Germany has conquered Europe. Which side(s) will players be able to join?
Players will be able to play either side.
OnRPG: For players who are not used to shooter games like Counter Strike, will there be difficulties picking up KARMA?
I don't feel the learning curve for KARMA: Operation Barbarossa will be very steep at all. Of course, there will be some unique features that first-time users will have to learn such as how to configure your weapons or use specific skills. But I feel the basic control schemes are similar to other FPS's in general. And for those users who have never played shooter games before, there are some things we can do to help that learning process such as tutorials or beginner channels, all of which are being considered right now.
OnRPG: Latency is clearly the most important factor in any online shooter. Will ijji be doing any adjustments for players outside of North America?
Obviously we take latency issues very seriously. It is very clearly our goal to provide superb service quality for all of our users. However the fact of the matter is, lag issues are real and they exist in competitive online environments. As games expand and the user base grows, these issues can crop up. What we try to do is always monitoring the situation and providing best possible solutions. Currently we have servers in the West Coast, East Coast and in Europe. We feel they provide very clean and smooth playing experience for users located in Pan-Pacific countries, South America, Europe, and even Middle Eastern countries.
OnRPG: How big a role do tactics and strategies play in the game?

Like I said earlier, I play lots of FPS games. I've seen in other games situations where one or two highly skilled players dominate and make it not as fun for the rest of the players in the room. I think the question is how we can provide a balanced game playing experience where individual skill and team play are equally valuable. I think tactical and strategic game play will be very important in KARMA: Operation Barbarossa, and the game provides enough features and game system to encourage that type of game play.
OnRPG: What game modes will there be available and how many maps are there at launch?
For CBT2, there are 6 maps and 4 modes.
OnRPG: How many types of weapons are there? Any unique items compared to other MOFPS?

For CBT2, there are 18 Weapons, 6 Equipments, and 4 characters all up for KP (KARMA Point, in-game money) purchase.
OnRPG: How will the cash shop be structured to make sure there is no obvious advantage?
There are lots of discussions on-going on details of business model for K.O.B. It is too early to say anything definitive, but we are doing our bests to control the rarity of premium items so that it does not throw off overall game balance, yet appealing enough for those who are willing to spend small amount of money.
OnRPG: ijji is famous for its competitive tournaments. Will KARMA be having the same treatment?
We are definitely planning to host competitive tournaments with awesome prizes, such as free trip to tournaments hosted overseas plus more. These are still in planning stages however, and it is a bit too early to say when and in what form this will be organized.
OnRPG: Are there any upcoming events planned for KARMA?
There are several events planned for KARMA CBT2. One of the biggest one that means a lot to our CBT2 participants, I think, is we will transfer CBT2 participants' achievements to OBT so that no time you spend in CBT2 is going wasted. For detailed information, please visit KARMA Official Event Page.
OnRPG: Any details you can leak with regards to ijji's upcoming game, Huxley: The Dystopia?
I am not directly tied to that project so I do not have any details. All I can say is that ijji has a very high standard for the games we publish. We try to make sure when we launch a game, we are able to meet the expectations of our users. So please have patience and stay tuned!
OnRPG: Thank you for your time!
Thank you and your readers for this opportunity! I did my best to answer your questions. For any further questions and if you seek other information regarding KARMA: Operation Barbarossa, please visit KARMA Forum.
Hope many of you will see what I'm talking about first-hand.
Sincerely,
Boo!