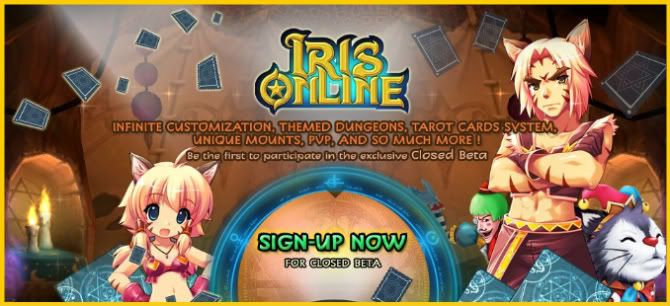 As I reported back in October 2009, gPotato had grabbed the rights for Eya Soft's Iris Online. The game's official website is now up and accepting Closed Beta registrations at the same time. After Luna Online, GamesCampus' Legend of Edda, this will be the 3rd MMORPG from Eya Soft to hit the English MMO market. Below is a short description of the game from the official (or rather teaser) website.


Iris Online is a gypsy-themed fantasy MMORPG developed by Eyasoft, makers of Luna Plus and Titan Online and published by Gala-Net, publishers of worldwide sensational MMORPGs such as Flyff and Rappelz. With over 1000 quests, 22 themed instance dungeons, and an intricate Tarot Card system, Iris Online is a full feature MMORPG rich in both PvE and PvP action. The cute anime-pop graphics and gorgeously realized 3D environments make Iris unique, with a look and feel all its own.

Through Iris's mysterious Divination System, players can get their Tarot Cards read from a fortune-telling NPC. Let the Fortune Teller reveal the secrets of the mystic arts, and your character may receive buffs and other special boosts in exchange. Players can also morph instantly into monsters by using a collected Monster Card. Turn into a bouncy and resistant toadstool or a super powerful end-game boss, all with the flip of a card!