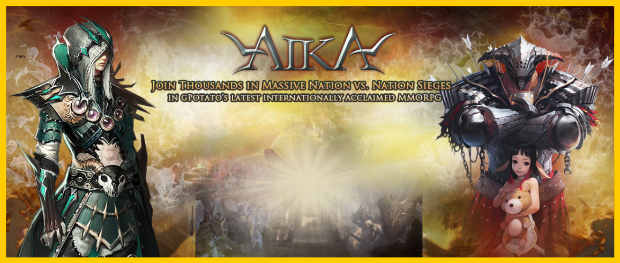 If you have played AIKA, you should have known by now Gpotato is going to IP block all countries outside North America. While IP ban is common when another server hosting for a different region pops up, how Gpotato (and possibly Hanbitsoft) handled the situation has left thousands o f players feeling short-changed. Some players are even threatening to file for a legal case, and its not a joke as I know a few players who are already drafting some documents. So why all the massive hoo-ha since IP ban is supposedly common nowadays?
1. Gpotato announced the IP block 1 day before they were going to implement it.
2. Gpotato knew that they only had the publishing rights for North America, yet did not emphasize to overseas players about spending on the Cash Shop.
3. Point 2 brought up a really valid point. Gpotato pride themselves as a "Global" game distributor, I am actually shocked that they did not even purchase the rights for European countries.
4. AIKA's main feature is the 1000 Vs 1000 PvP wars. Gpotato should have done enough market research to see the feasibility of the game being restricted only for North American players. A failed example will be YS Online, which was only for European countries, and went down after a few months. Will there even be enough for a 500 Vs 500 war?
5. Gpotato's announcements (up till now) with regards to the issue is nothing short of disappointing and unprofessional. Rather than trying to calm players down by confirming that reimbursements of some sort are in the works, the only information they have is "Please wait for more information on the website".
6. Gpotato's inability to discuss a fruitful contract with the developer, Hanbitsoft. In the legal contract signed between the 2 parties, there should be a detailed plan on how the 2 companies will act if other servers open up. Yes, go ahead with the IP ban, but it seems Gpotato is currently like a chicken without its head wandering around trying to find answers like the rest of the community. Even if this important detail wasn't in the contract, Gpotato should have set aside a Plan B, knowing well they only had the license to publish AIKA in North America.
7. Even if present overseas account are kept, will relying on new players only from North America make up for the number of players quitting, long term wise? Is it really feasible?
The dreaded maintenance, which the IP block will be implemented, has just ended a few hours ago. More chaos were introduced as some players were not able to log in from North America, some players claiming that new overseas account can still log in, while others claim the opposite. Apparently, there were also a few bugs related to the war relics added too. What is the purpose of the maintenance if all these major bugs were there and conflicting player reports with regards to the IP banning?
I urge MMO publishers to be more pro-active in coming up with counter measures for all negative issues and possible scenarios. This is a lesson learned too, in terms of discussing a proper, detailed contract with the developers. If you do know you have only published the rights for a game for a certain region, the only "right" thing to do is to emphasize to players in forums, Facebook and fansites with regards to the dangers of purchasing from the Cash Shop. Not to mention overseas players going through the game's Closed Beta phases, helping to source out bugs and only to be IP ban, in this particular example (AIKA).
As of now, the players are still waiting on more information from Gpotato. Stay tuned as the drama continues to unfold. Cinderboy, signing out.
Edit: I forgot to add in the website for Global AIKA – http://aika.t3fun.com/