S.U.N Online basically stands for Soul of the Ultimate Nation Online, which is developed by Webzen. The game was made around 3 years ago, but I am still quite confident that its graphics will beat most of the F2P MMORPGs out there.
As you may notice from the top links, the individual websites for the 2 different service areas are not up yet, but the game is due by end 2009. Let's take a look at what the game has to offer.
Classes
There will be 5 classes in the game, with the latest being Shadow. I'm not sure if the class will be implemented immediately, since it was released not long ago in the China server together with a rather huge patch (World Edition expansion).
World Map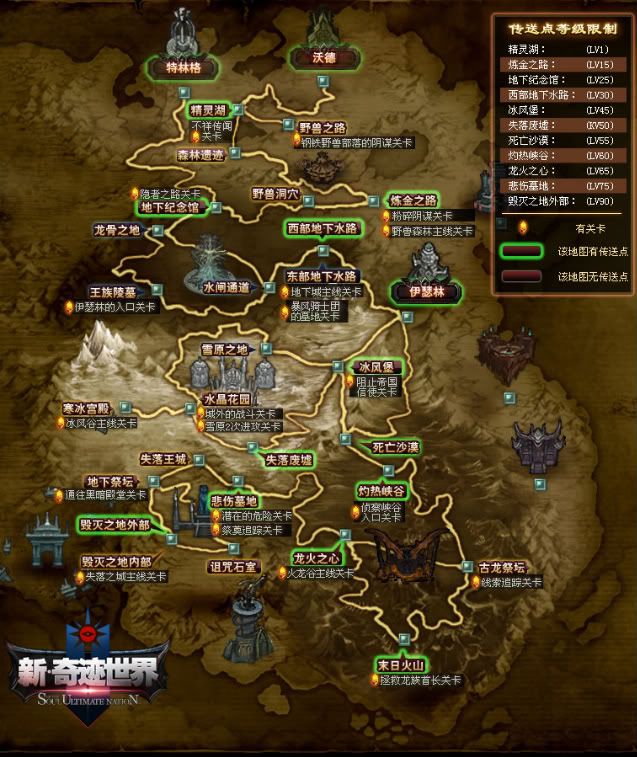 The world map is basically divided into 5 main zones (below), mainly the Wild Beast Forest zone, Underground City zone, Icewind Canyon zone, Flame Dragon zone and Forgotten City zone. Each zone has around 5 – 7 different maps attached to it.
The Area Conquest missions/quests will require you to completely discover all areas/maps within the various zones, which in turn will reward players with fabulous prizes.

The world map also consists of various dungeons/towers. One example is the Crimson Tower. If my translation is correct, have a count how many levels are there in total within the tower @@""

There are 3 more such dungeons/towers, with some having time limits, paying a fee to enter and if you are familiar with MU Online's Devil Square, its here too.
As you can see by now, the unique feature of S.U.N Online is its many maps, dungeons and instances, together with tons of equips and stylish looks.
Pet system
The pet system in S.U.N Online is pretty basic. It serves as a buffer beside you and does not attack. The longer it stays summoned, the higher the Closeness ratings. You will also have to feed the pet to fix its hunger rating. Various bosses can also be captured and kept as pets. How many pets can you see in the picture below ?
Game music
Its kinda unique for F2P MMORPGs to list its ingame music as one of the main features, but this time, its composed and produced by Howard Shore, who also composed the scores for Lord of the Rings film trilogy. I have no idea how much they paid this guy…

Crafting System
A pretty standard crafting system, gathering the materials to craft various equipments and potions with different success rate based on the item.
Equipment grading/ Upgrading
There are several different grades of equipment, mainly E、D、C、B、-A、 A、+A、-S、S and +S. There are also 3 different categories when upgrading, mainly Beginner (+1 to +6), Intermediate (+7 to +9) and Advanced (+10 to +12). Equipments within the same categories can be fused together.
That's all for this basic introduction of the game. Here are some screenshots to close the post.
Official English site 1: http://sunonline.webzen.net/
(Closed Beta in October 2009, for rest of the countries not mentioned below)
Official English site 2: http://sun.ijji.com/
(Closed Beta at time of post, only for USA, Canada, UK and Mexico players )
Update: HD trailer for the game.